email. front@hotel-sunbird.com
call. (+81)278.75.2321
Special Japanese -style meals
11 types outdoor hot spring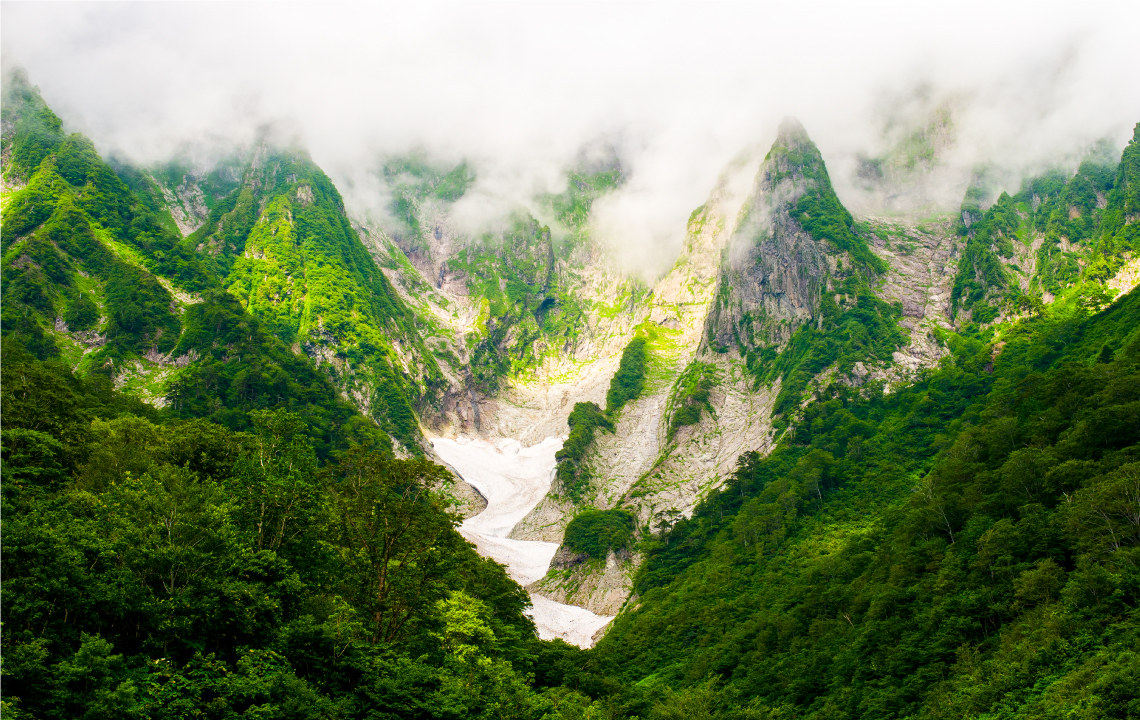 Nature of recognized
as
UNESCO Biosphere Reserve
WELCOME TO

HOTEL SUNBIRD

Our hotel is onsen resort. It takes time about 2 hours from Tokyo. There are beautiful nature of recognized as UNESCO Biosphere Reserve. And we have 3 kind of onsen. Especially, 11 types outdoor hot spring is private, so you can use really relaxed. Dinner is Japanese-style food menu used many kind of local foods. In winter, our garden changed snow park, you enjoy snow activities.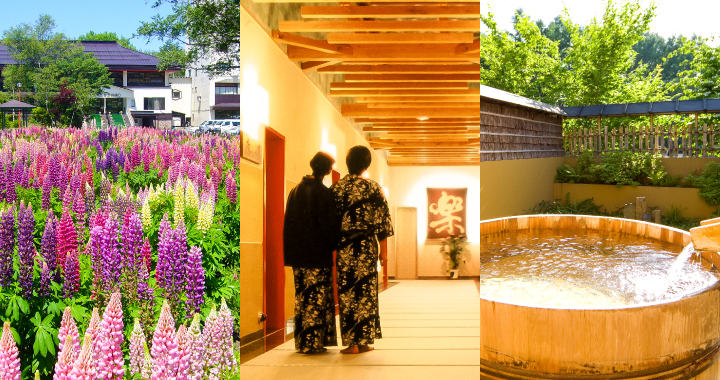 Hot Springs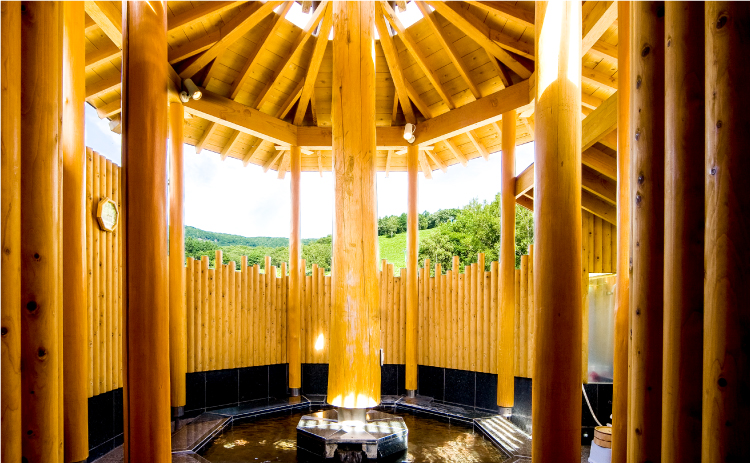 Onsen Doraku
11 types outdoor hot spring
You enjoyed 11 types outdoor hot spring. The bathtub made in white cedar, you can take a bath looking waterfall and so on. You can enjoyed many deferent types hot spring. And it's private bath room. (40 min) So you can use really relaxed.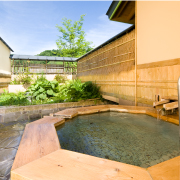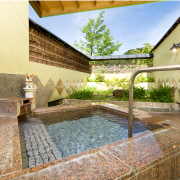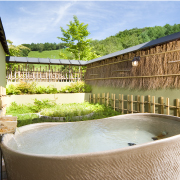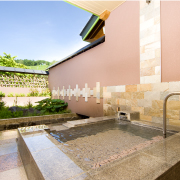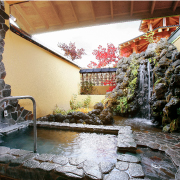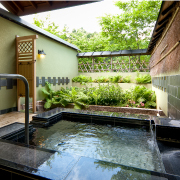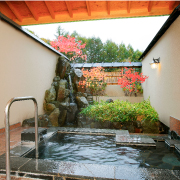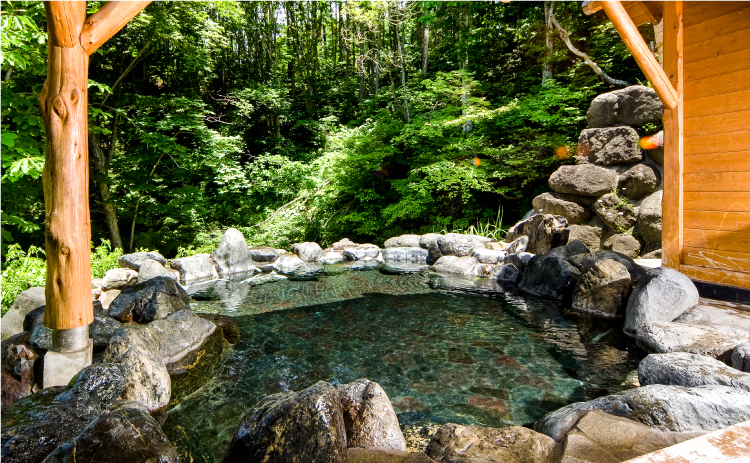 Hyakkeika
Outdoor hot spring on a hill
This is the outdoor hot spring a hillside. It is very beautiful view from here. And you can take a bath looking nature of waterfall.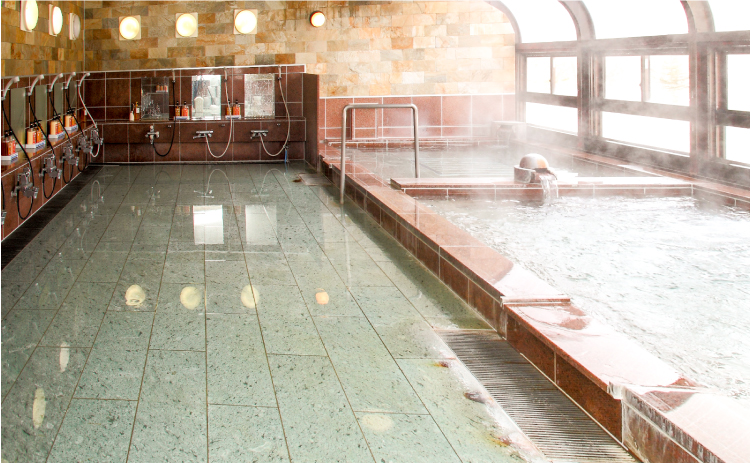 Public Bath
The wide bath with Jacuzzi
The hall is equipped with a wide range of spa baths, so that each visiting guests can get the body and mind to relax.
Takaragawa Onsen
NEARBY!
It takes time about 15min by car. Very famous onsen, 400㎡ Mixed bathing is popular with foreigner. We can pick you up there. If you want to go, please talk to us.

Guest Rooms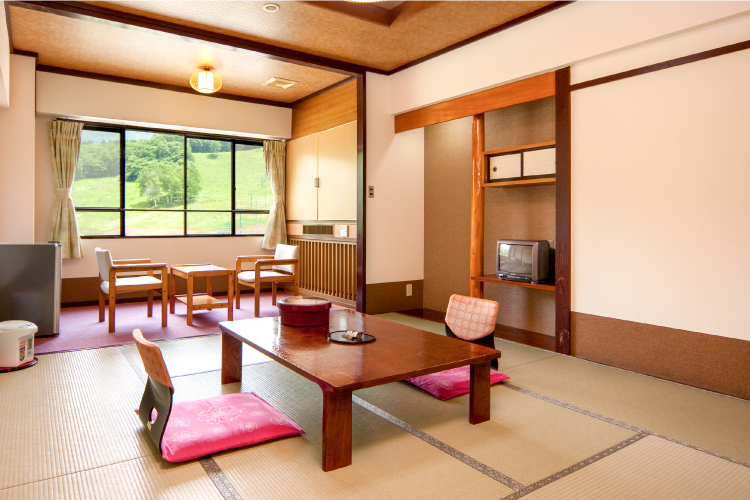 Standard Room
(Japanese Style)
Room Size: 25㎡
Room Variation
[ROOM1] private bathroom and toilet (modular bath)
[ROOM2] shared bathroom and private toilet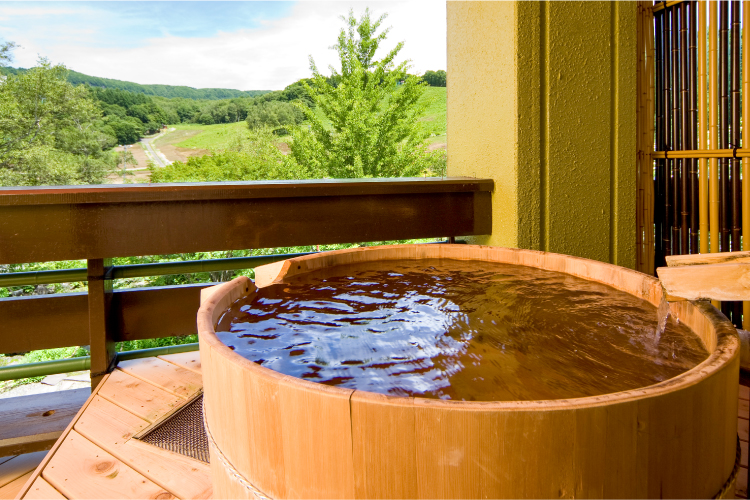 Open-Air Hot Spring Room
(Japanese Style)
Room Size: 26㎡
The room with outdoor hot spring.
* This hot spring is no shower, it can't use shampoo and soap.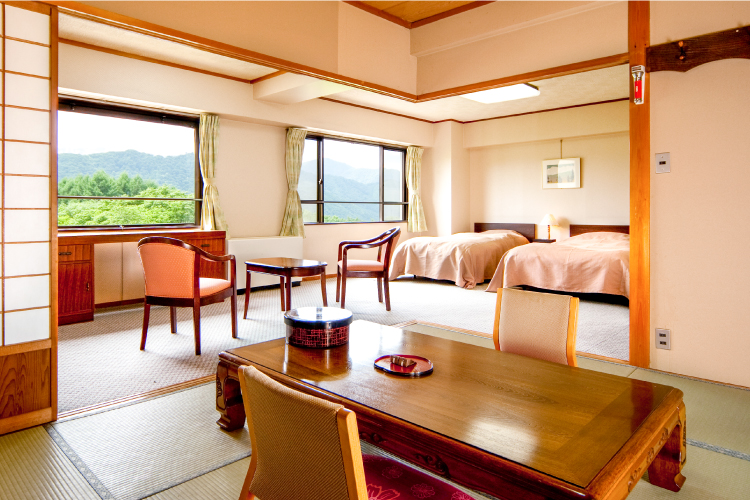 Family Room
(Japanese-Western Style)
Room Size: 36㎡
Only one room with 2 beds and 8 tatami room. There is top floor, so view is nice.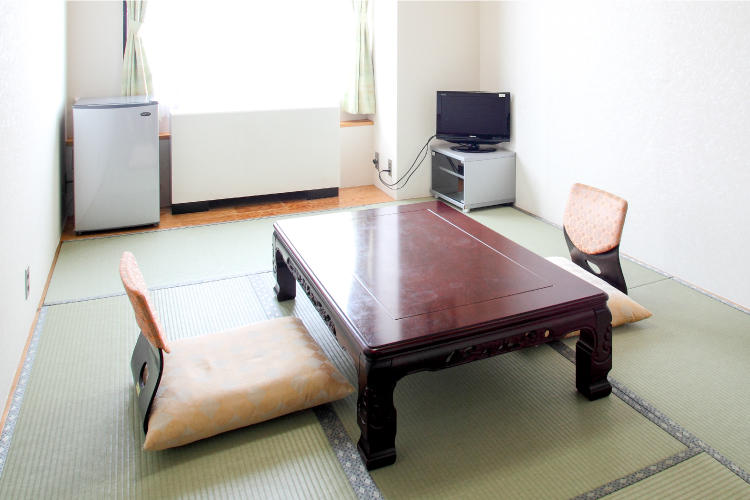 Valuable Room
(Japanese Style)
Room Size: 16㎡
The room with toilet. The room capacity of 2.
Room Facilities and Amenities:
TV, telephone, electric kettle, tea set, refrigerator, hair dryer (available to borrow), toilet with washlet (in some rooms), body soap, 2-in-1 shampoo and conditioner, shampoo, rinse, toothbrush, razor, towels, bath towel, yukata (Japanese-style robe), slippers
Cuisine
Japanese-style food menu made in Gunma. We use seasonal ingredients just right for that season.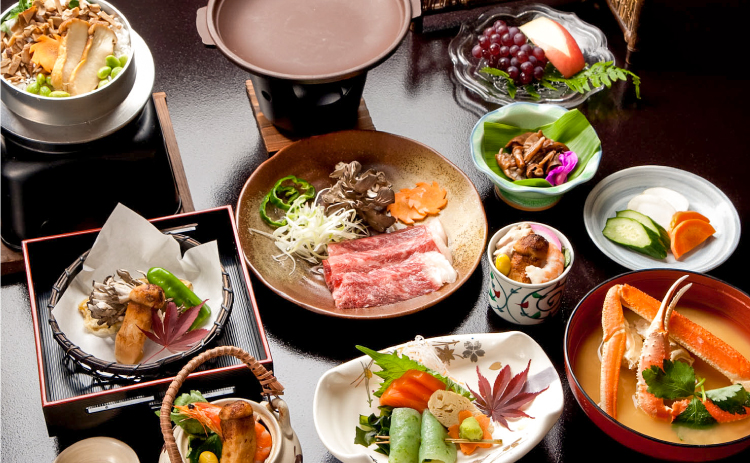 Kaiseki
a Traditional Japanese Course Dinner
We use Japanese and cow, local river fish and local vegetables, and adjust menu contents according to season. Please inform you if you have any allergic ingredients.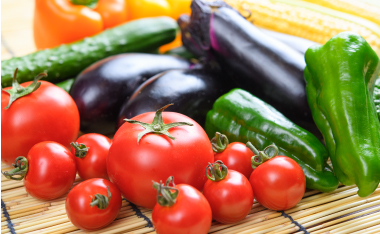 Local Vegetables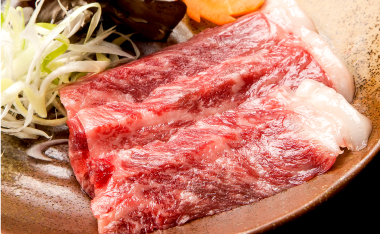 Joshu Beef (Wagyu)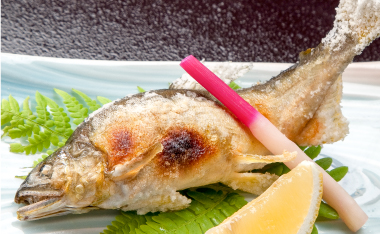 Fresh-water Fish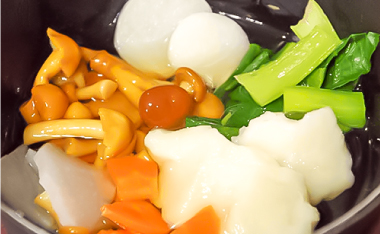 local dishes

Experience
You can enjoyed many kind of activities in the season.
Activities
SKI & SNOW BOARD
SLEDS & SNOW TUBES
RAFTING
PARAGLIDING
CANYONING
CANOEING
Sightseeing
STARRY SKY
SEASONAL FLOWERS
DAM SEEING
CABLE CAR
CRAFT WORKSHOP
FRUIT PICKING

Door access ski resort "Fujiwara Snowpark"
Private ski slope "FUJIWARA SNOW PARK"! Spacious slopes are also perfect for ski resort debut! Not to mention skiing and snowboarding, "KIDS LAND" for young children is also very popular!

Access
From Narita Airport by train
Narita airport station – JR Narita Express [Approx. 60min] – Tokyo station – Joetsu-Shinkansen [Approx. 66min] – Joumou kougen Station – Bus towards Minakami station(620yen) [Approx. 25 min] – Minakami Station [Transfer] – Bus towards Yunokoya Onsen [Approx. 35min] Get off the bus at [Fujiwara ski jou iriguchi] (1350yen).
From the closest station by bus
(from Jomo Kogen Sta. and Minakami Sta.)

Courtesy bus
To use the property's free shuttle from Jomo Kogen Station or Minakami Station, please make a reservation at least 3 days prior to arrival.
<Shuttle times>
– From Jomo Kogen Station (Joetsu Shinkansen): 13:50 – From JR Minakami Station: 14:15
Route bus
The bus takes 25 minutes to go from Jomo kogen Station to Minakami Station. The charge is 620 yen. *You will need to change buses at Minakami Station to go to the Hotel Sunbird. If you leave Minakami Station by bus, you will arrive at Hotel Sunbird in 35 minutes. The cost is 1,350 yen. We will welcome you by our courtesy car at the bus stop the Fujiwara ski jou iriguchi.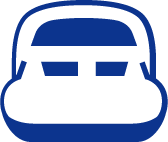 What's "JR TOKYO Wide Pass"?
The JR TOKYO Wide Pass is a discounted pass for unlimited rides in Tokyo and the surrounding Kanto area. Valid for three days, the pass is good for unlimited rides using reserved seats on ordinary trains and Shinkansen, limited express and other trains in the valid use area. The JR TOKYO Wide Pass makes it easy to visit popular tourist destinations such as Mt. Fuji, Izu and Karuizawa, GALA Yuzawa.